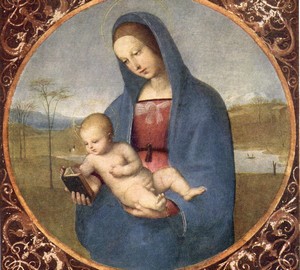 Description of the picture:
Madonna Conestabile – Rafael Santi. 1504. Canvas, tempera. 17.5×18 cm
A beautiful female image, imbued with lyricism, tenderness and unearthly spirituality – all this is about the Little Madonna Conestabil.
This picture is of a small format, it is of great importance – it is here that Rafael first presents the viewer with the image of the Madonna, thereby opening up a galaxy of paintings that later art critics will "collect" into one general concept – "The Madonna of Rafael".
The work is dated 1504, however, there is an opinion that the painter did not complete this Madonna, busy moving to Florence. The first Madonna of Raphael was the last painting painted in Urbino.
Everything in this work breathes peace and harmonizes with each other. The enlightened faces of mother and baby are united by a common object-book, where both have fixed their eyes. The vibrant robes of the Madonna are balanced by a calm background, which depicts the usual Umbrian landscape. The smoothness of the lines is enhanced by the tondo – the round shape of the picture.
Its name – Conestabile, Madonna received only in the XIX century, thanks to Giovanni Carlo della Staffa Conestabile. Giovanni was a representative of the oldest family from Perugia, who inherited a beautiful palazzo with the most valuable works of art, among which was the "Madonna and Book," as this work was then called.
In 1871, the painting was bought by Alexander II. So Russia acquired the masterpiece of Raphael, and the picture is a new name, in honor of its former owner.
It is noteworthy that the painting underwent a crucial procedure designed to protect the masterpiece from the destructive power of time – in one thousand eight hundred eighty one it was transferred from the board to the canvas.
Today, the beautiful Madonna meets her audience with a book in one of the halls of the Hermitage."