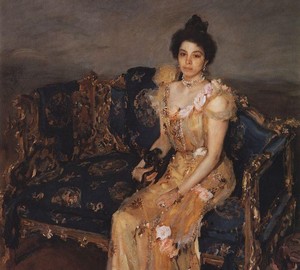 Description of the picture:
Portrait of S. M. Botkina – Valentin Aleksandrovich Serov. 1899. Oil on canvas. 189×139.5
The portrait of S. M. Botkina, by Serov, resolutely goes beyond the framework of the parade portrait genre. The author portrayed a heroine sitting on a chic baroque sofa. Gold, dark silk, embroidery. Heavy, pretentious, tasteless. The model itself is the opposite: light, airy, sophisticated, sophisticated.
Serov intentionally tears the heroine out of the familiar interior and chooses "empty" background. The ceremonial portrait acquires a subtle psychological sound. The dominant yellow, blue and black colors clearly convey loneliness and sadness. A small dog sitting next to it emphasizes defenselessness and vulnerability. The ceremonial portrait became very personal, revealing the character and fate of the heroine."