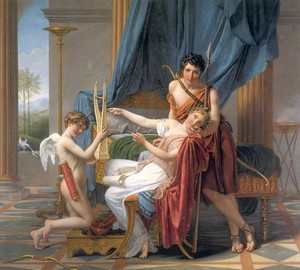 Description of the picture:
Sappho and Faon – Jacques-Louis David. 1809. Oil on canvas. 225,3×262
The founder of French neoclassicism, Jacques-Louis David (1748-1825) painted the picture by order of Prince N. B. Yusupov. Ancient Greek poetess Sappho was a favorite heroine of artists in this direction. The legend tells that she fell in love handsome sailor Faon. Every day he went to sea on a boat, and Sappho was waiting for his return. Once the beloved did not return home, and the heroine in despair committed suicide by throwing herself in the waves of a stormy sea.
The painting from the plot to the clothes of the heroes and furniture, which the painter specially studied from the monuments of ancient art, is designed in the spirit of classical samples. The composition of the canvas is quite static and theatrical, the figures of the characters resemble the revived ideal statues. The mythological element in the work is Cupid, and it is not at all a little plump boy, usual for Baroque and Rococo works. Here in his figure the classic proportions of an elongated body are clearly read. The winged god of love holds out Sappho Lira – a symbol of poets, as if hinting that thanks to this feeling the best works are created."