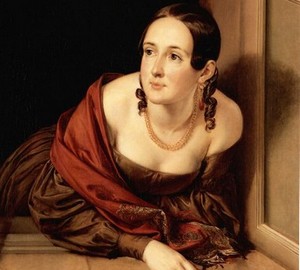 Description of the picture:
The woman in the window (Treasury) – Vasily Andreyevich Tropinin. 1841. Oil on canvas. 87,5×68
Vasily Andreevich Tropinin (1776-1857) is considered to be the founder of the Moscow school of painting. In his work, he brings a strong personal beginning to the traditions of the art of the era (the general parade of the image of the model). The circle of his plots and models is partly explained by his origin (he was a native of serfs). Often these were characters from the common people – people close and understandable to the master, as well as poor Moscow nobles. Pictured Tropinin "Woman at the Window" – the heroine of the poem M. Yu. Lermontov "Tambov Treasury".
Each portrait of Tropinin's brush is story-driven and demonstrates the artist's interest in the everyday side of human life. The warm color of the canvas, soft, natural light give rise to a sense of reality and create coziness and good mood. Heroes of Tropinin attract with their simplicity and spontaneity, with openness and intimacy."