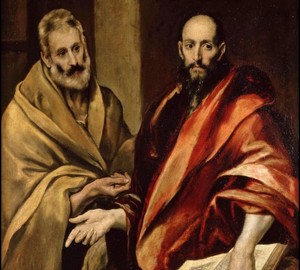 Description of the picture:
The apostles Peter and Paul – El Greco. Between 1587-1592. Canvas, oil. 121.5×105
A native of Crete, El Greco (1541-1614) belongs to the Spanish school of painting. The recognizable style of the artist-mannerist is distinguished by dazzling flashes of light, emphasizing the texture of the fabric and its folds, elongated proportions of figures, exaggerated expression of poses and movements, dramatic sharpness of images, nervous linearity of the picture, coloristic dissonances.
Image of the Apostles Peter and Paul in the interpretation of El Greco – it is a contrast between two natures and temperaments. Paul is smart, categorical and ruthless, decisive and emotional. One хэнд rests on the book of Holy Scripture, a pointing gesture with the other confirms the sermons of the Christian faith that he wrote. The contrast is the apostle Peter. He is all in doubt and reflection. A meek, indecisive look speaks of hesitation and internal discord. It is interesting to compare the hands of both apostles — Paul's strong, strong хэнд and Peter's soft, requesting one. A similar interpretation of the images of the evangelists was a find of El Greco, it significantly deviated from the norms of the existing church tradition in Spain.
Painting by the Apostles Peter and Paul is in the St. Petersburg Hermitage."