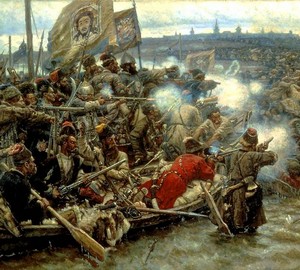 Description of the picture:
The conquest of Siberia by Ermak – Vasily Ivanovich Surikov. 1895. Oil on canvas. 285×599
The conquest of Siberia is one of the glorious and great pages of the history of the Fatherland. The key role in this was played by the talented commander, the brave and courageous man Ermak Timofeevich. For his monumental work, the artist chose the battle genre to more fully and brighterly tell about the personality of the conqueror, as well as about the greatness of the feat of the Russian Cossacks.
The viewer faces the battle of the Cossack army with the countless army of the Siberian Khan Kuchum.
According to all the canons of the chosen genre, the outcome of the battle is obvious to the viewer, despite the fact that the battle is just beginning. Cossacks, under Christian banners with the face of the Holy Face, headed by Ermak, placed by the author in the foreground, look more powerful than the Siberian army. The opposite side is the mass of people from which only a few individuals can be distinguished. Confidence and courage on the part of the Cossacks, confusion and fear on the part of the Siberians. Calm, confident depicted Ermak. The classic commander's gesture — an outstretched хэнд guiding the army — is the canonical device of classical painting.
The artist in this work dispensed with bright colors. The main colors of the work are gray and brown. Only in the center, one Cossack is dressed in a bright red caftan, attracting the attention of the viewer. Red clothes in battle are needed in order not to see blood on your body, not to lose the presence of spirit. On the other хэнд, this is a sign that the warrior is ready to fight to the last drop of blood. This is also evidenced by the ax behind the belt of the Cossack in the foreground. Gunpowder will end – a saber will be used, a saber will break – an ax, a man's usual weapon will come in handy.
Gunpowder smoke fills the air, the viewer as if hears the sounds of shots, the whistle of Siberian arrows. In the background, the battle grew into hand-to-hand combat. In the center of the Cossack army, someone raised an icon above his head, summoning the Savior to be his helpers.
In the distance you can see the fortress of Khan Kuchum. Another attack and the fortress will fall.
The anticipation of victory is clearly felt in the whole atmosphere of the canvas of the great master."