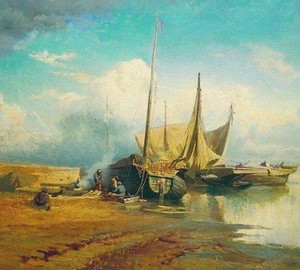 Description of the picture:
Fedor Alexandrovich Vasiliev (1850-1873) – a surprisingly delicate landscape painter of the second half of the XIX century. He combined in his work the romantic line of painting by his predecessors and anticipated the emergence in the genre of landscape of the transfer of the emotional experience of an artist who observes nature. The flowering of talent was cut short by the early death of Vasiliev, who became ill with tuberculosis.
The painting "View of the Volga. Barki unfolds before the viewer a magnificent panorama of the Volga open spaces with a high blue sky, full of solemn sound.
Having introduced a household motif with barges and barge haulers into the landscape, the artist seeks above all to emphasize the harmony of man and nature. Involuntarily, a comparison arises with the painting by I. Ye. Repin, "Haulers on the Volga." It is known that many painters traveled along this river and saw the hard work of slave hacks, similar stories are found in other masters of this time. But Vasiliev, remaining true to the path of the landscape painter, does not try to urge the viewer to socially read the canvas, but seeks to elevate the perception of nature he has seen to universal human feelings and moods. The masterfully conveyed complex "life" of heaven contains a gamut of "humanized" experiences – dramas and joys, emotional shocks and resurrection of the spirit. Gifted with a subtle perception of color shades and transitions, Vasiliev is inimitable in the color scheme of the paintings – the warm golden brown fabric of the earth and sunlight surprisingly gently emphasize the clear blue of the sky and water spaces."