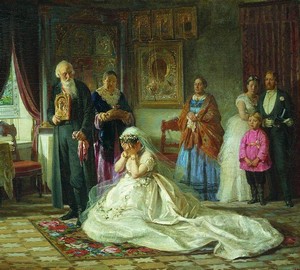 Description of the picture:
Before the crown is Firs Sergeevich Zhuravlev. 1874. Oil on canvas. 105×143
Firs Sergeevich Zhuravlev (183b-1901) – a representative of genre painting of the second half of the XIX century. The heroes of his paintings are the characters of the "dark kingdom" of A. N. Ostrovsky: cunning matchmakers, ruthless creditors who described property, merchants feasting at the funeral wake.
Literary plot is inherent and the picture "Before the Crown". The artist depicts a drama that unfolds during a blessing by the father of his daughter before the wedding. Women's fate in the XIX century was unenviable – often parents gave their daughters married by calculation, in order to improve the material well-being of the family. Rich young men or wealthy but unattractive men became the bridegrooms of the young brides.
The painter placed a multi-figure composition in the interior of a house full of icons, which gives out in the owners of devout people. Confused at the sight of a sobbing daughter, his father with an icon in his hands and his mother, frozen with a loaf on a tray, do not know how to behave in this unexpected and indecently awkward situation. The resentment of the groom in the background and the whispers of his relative do not portend a happy ending to the scene.
For this painting Zhuravlev received the title of academician and public recognition. It became so popular that he had to execute several repetition options. Later, the master's paintings will be marked as the best illustrations of everyday life and customs of the 1860-1870s, and the well-defined characteristics of human types and the features of their behavior will become classic for understanding Russian culture."