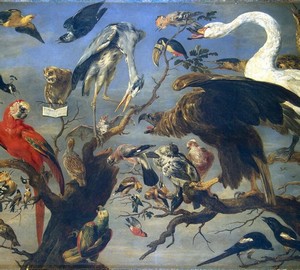 Description of the picture:
Bird Concert – France Sneijders. Around 1630-1640. Canvas, oil. 136.5×240
Frans Sneijders (1579-1657) – the largest master of still life and animapist painter of Flanders of the XVII century. The plot of the picture "Bird Concert" goes back to Aesop's fable "The Owl and the Bird". Under the control of an owl, in front of which a musical notebook is opened, the birds try to sing. Accurately transmitted color. features of the structure and plumage of different birds: from a small hoopoe and a dove-pigeon to a colorful Amazon parrot and peacock with a beautiful wide tail. On the canvas are presented as inhabiting European forests, fields and water open spaces, as well as more exotic, decorative birds. Several dozen large and small birds are freely placed in space, forming a bright colorful ensemble against the background of bright clouds.
Under the influence of Snyders theme "Bird Concert" widely spread in Flemish art of the 17th century."