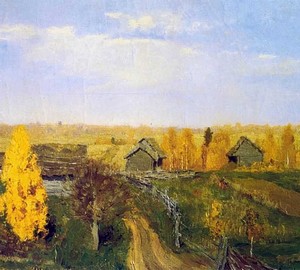 Description of the picture:
Gold autumn. Slobodka – Isaac Ilyich Levitan. 1889. Oil on canvas. 43x 67.2
Isaac Ilyich Levitan is a master of landscape-mood, who enriched Russian landscape painting of the 1880-1900s with his picturesque and plastic searches and artistic images.
Canvas Golden Autumn. Sloboda » written during repeated trips along the Volga, in the favorite place of Plyos. Volga's nature has more than once become the heroine of Levitan's paintings. A striking chord in the picture is the brightest autumn season, a feast of nature. The image of autumn, a little sad in the short duration of its triumph, is capacious and contradictory. The life of a Russian village, a strip of yellowing forest and a vast expanse of sky are full of grandeur and calm expectation of rainy and cold weather. The depicted huts and the driveway introduce an element of everyday life into the mood of the picture. Everything is subject to the natural course of the changing seasons, the uninterrupted cycle of life of nature.
The singer of the "everyday motive", Levitan, continuing the lyrical line of landscape development outlined by his teacher A.K. Savrasov, with his work opened a new page in the art of the late XIX century."