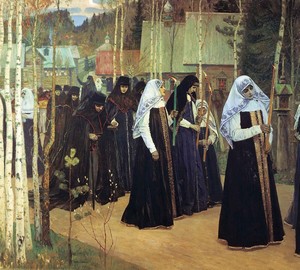 Description of the picture:
Great tonsure – Mikhail Vasilyevich Nesterov. 1898. Oil on canvas. 178×195
The work of Mikhail Vasilyevich Nesterov (1862-1942) reflects the deep spiritual and religious searches of his era. The author of numerous paintings and monumental temple murals (in particular, the Martha-Mariinsky monastery in Moscow), Nesterov earned high praise from his contemporaries.
The painting "Great tonsure" is one of the works conceived by the painter of the cycle. While still a student at the Moscow School of Painting, Sculpture and Architecture, Nesterov became interested in the novels by P. I. Melnikov-Pechersky "In the Forests" and "On the Mountains" (whose son, by the way, was a fellow student of the artist). The idea of ​​the series was not so much in illustrating a literary work as in comprehending human fate, the female share.
Tragic love and not finding sympathy outbursts of the heroine's dreaming soul become the reason for her departure to the monastery. According to the plot of the novel, the girl who did not receive comfort in the monastery ministry was to rush to the Volga, but Nesterov did not write this story-completing story. Having settled on the subject of "Great tonsure" in full humility, the artist could not go against the Christian commandments and disrupt the spiritual path of the Orthodox person. A girl in black robes, supported by two nuns, in this unfolding sad procession ends her stay "in the world." Soon she will become one of the nuns. The novice girl leading the way with a candle in her хэнд personifies the image of the undying hope for the future salvation of the soul in prayers.
One of the characteristic features of Nesterov's work is his landscape backgrounds, full of subtle poetry and harmony with the notes of the inner states of the characters. For the work "Great tonsure" Nesterov received the title of academician."