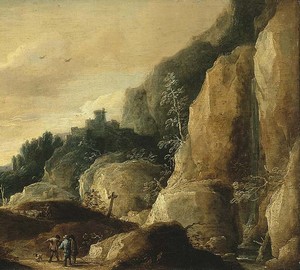 Description of the picture:
Mountain landscape – David Teniers the Younger. Canvas, oil. 1640. 32х51,2
The painting, executed in 1640, recalls the fantastic landscapes of the Flemish Jos de Momper (1564-1635). Teniers, like his predecessor, interprets the landscape as a wide panorama extending to the horizon, flanked on the sides by rocks and boulders. Canvas Teniers, created in contrast to the dark silhouettes of reddish-brown mountains, covered with green foliage, and light blue sky, has a clear construction of the landscape.
The mountain landscape is so grand that the characters in the foreground seem like toys. Compared to the landscape part, the genre motive plays an insignificant role in this picture. In the works of Teniers, such small-scale figures are often found. They serve as a kind of reference point for spatial plans of composition."