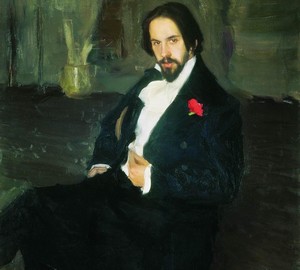 Description of the picture:
Portrait of I. Ya. Bilibin. 1901. Oil on canvas. 142×110
This portrait is an early work of the master. It was created in the academic workshop of I. Repin. In this work, Kustodiev's manner barely appears. She has not yet formed. Bilibin is depicted very realistically. Before us is an exquisitely dressed young man: a black frock coat, a snow-white shirt. The red flower in the buttonhole is a detail that characterizes the model. The hero is smart, a lover of women, entertainment. An ironic look, even a laugh. Facial features are correct. Before us is a handsome young man.
The background of the portrait is sketchy. According to roughly marked details, it can be determined that the work was created in the artist's workshop.
The accuracy and photographic authenticity with which the author wrote the hero is striking. It is no accident that the portrait was awarded a medal at a prestigious exhibition."