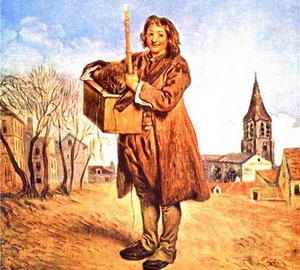 Description of the picture:
Savoyard with Groundhog – Antoine Watteau. 1716. Oil on canvas. 40.5×32.5
18th-century French art begins with works Antoine Watteau (1684-1721). He was the first to express a new idea of ​​the beauty and naturalness of human feelings and emotions, introduced fresh themes and images.
At the heart of the painting "Savoyard with Groundhog" lies a drawing мейд from nature. A small musician with an open smiling face is dressed in modest clothes that are comfortable in numerous travels. A native of the mountain of Savoy, he went to work, taking with him a flute and a box from which the learned groundhog pulls out small notes "with happiness". The lyrical approach to the plot, the internal warmth with which the image is interpreted, is very characteristic of Watteau's paintings. He skillfully emphasizes the loneliness of a boy standing against a cold morning sky. Similar sketches from the life of ordinary people in the work of Watteau went in parallel with the famous gallant festivals and theatrical scenes."