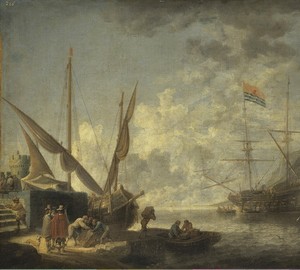 Description of the picture:
Seaside Harbor – David Teniers the Younger. The beginning of the 1650s. Canvas, oil. 58.5×83.6
This canvas depicts a port, not in Northern Italy, where Teniers had never been, but perhaps in Dover in England. The artist visited this country twice – in one thousand six hundred thirty five and 1651. In one thousand eight hundred sixty three it was noted that the coat of arms and flag of the Dutch province of Zeeland were depicted on a frigate standing on the roadstead. Teniers magnificently conveyed the awakening of nature: clouds turning pink from the rising sun; the sea freed from morning fog, the surface of which is covered with small ripples; rocky heaps illuminated by the sun. Against the background of rocks, the silhouette of a warship with Dutch flags fluttering on the masts looks especially impressive. The creation of human hands is compared here by the artist with the perfect creation of nature.
The picture can be dated to the 1650s – this decision suggests a silver-blue tone of color, characteristic of this period of the master's work."