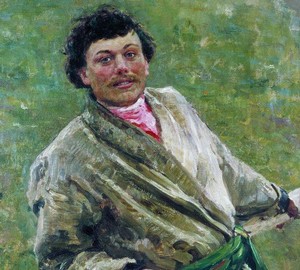 Description of the picture:
Belarus – Ilya Efimovich Repin. 1882. Oil on canvas. 71.5×102
In the Russian Empire, Belarusians are the most miserable and slaughtered people. Repin destroys this stereotype by creating a portrait of a Belarusian guy. Before us is a confident young man with a cautious, slightly shy smile on his face. The caftan is tied up with a festive green sash, a pink shirt is visible under the caftan, obviously also intended for special occasions. Black, curly hair, a blush on all cheeks, a light mustache (undoubtedly, the subject of pride of their owner). There is so much naive curiosity, vitality, fun in the hero's look that it becomes clear to the viewer – he is, without a doubt, a happy person.
Good nature, reverie, a cheerful disposition are the very qualities that completely destroy the stereotype of the slaughtered Belarusian peasants."