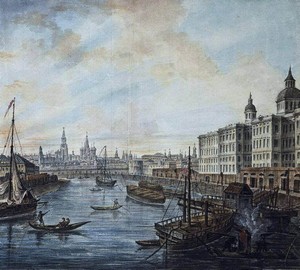 Description of the picture:
The educational house in Moscow – Fedor Yakovlevich Alekseev. Watercolor on paper, 30.2 x 46.5 cm
At the beginning of the 19th century, the famous master of urban landscape F. Ya. Alekseev, on the instructions of Paul I, went to Moscow in order to capture its views. The artist lived in Moscow for a year and a half with two students. He brought to St. Petersburg paintings and many watercolor sketches with images of Moscow landscapes. These works were a great success in the metropolitan society, the artist did not have an end to orders. For us, this series of paintings by Alekseev is interesting in that it shows Moscow before the Napoleonic fire of 1812
The landscape with the Orphanage refers to watercolor studies. Now it is stored in the storerooms of the State Hermitage in St. Petersburg.
The central part of the figure is the Moscow River. Boats and ships float in calm water – the traffic is quite busy. Along the coast are moored ships. In the lower right corner of the picture, one of the sailors мейд a fire on the raft – we see puffs of smoke. There is a floating pier in front of the Orphanage.
The Kremlin is visible on the horizon. The sky, occupying a half-picture, clear with rare cirrus clouds, pierced by the rays of the rising sun.
On the left side, the artist depicted Raushskaya embankment, then it was called Zayaitskaya in honor of the St. Nicholas Zayaitsky temple, built in the middle of the XVIII century. Its turrets are visible on the left side of the picture.
On the Moskvoretskaya embankment, the Imperial Educational Home is visible. It was built in the XVIII century on the initiative of the famous enlightener, I. I. Betsky. It was a closed educational institution for orphans, street children and thrown children, where they received shelter and were trained in crafts. It also housed a children's hospital with a maternity hospital. The educational house was one of the largest buildings in Moscow at that time. He survived the fire of one thousand eight hundred twelve and has survived to this day."