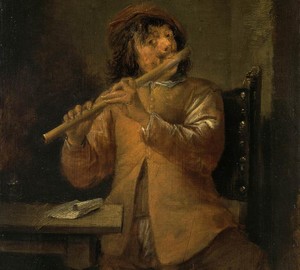 Description of the picture:
Flutist – David Teniers the Younger. The beginning of the 1640s. Canvas, oil. 24.7×19.5
The Teniers' piece presents an enthusiastically playing music flute player who personifies the Auditus from allegory "Five senses". Since the Renaissance, the embodiment of the Hearing in painting was a musical instrument. However, in the picture of Teniers inherent "Auditus" the lofty system of allegory loses its original meaning and is interpreted in the domestic plane. A similar interpretation of the allegory of Hearing was found in the Hermitage work "Zucchini scene".
Based on the stylistic proximity with the Teniers painting "Painter in his workshop" a picture "Flutist" should be dated to the early 1640s."