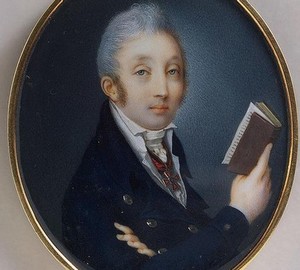 Description of the picture:
Portrait of Count M. M. Speransky – Pavel Alekseevich Ivanov. 1806. Bone, watercolor, gouache. 7.5×6.3
The art of portrait miniatures on bones reached its peak in the 18th – first half of the 19th centuries. Small images – prototypes of modern photography – were so popular that there was even a separate class at the Imperial Academy of Arts in St. Petersburg, where they taught this labor-intensive craft. Pavel Alekseevich Ivanov (1776-1813) at first he studied at the Academy, and after almost ten years he headed the mentioned class.
The portrait depicts Mikhail Mikhailovich Speransky – lawyer, statesman of the times of Alexander I, author of the "Public Education Plan". He is shown in a three-quarter turn on a neutral bluish background, wearing a black frock coat. The Order of Vladimir of the 3rd degree hangs on the tape, Speransky holds a book in his hands and with all his slightly arrogant appearance shows that he broke away from fascinating reading only for the sake of this work of the artist.
Despite the apparent simplicity, the art of portrait miniatures required great accuracy and patience, because the image was formed from hundreds of thin brush strokes that were not visible from a distance. Artworks written on an ivory record are extremely fragile. Perhaps that is why a little work by Ivanov was preserved."