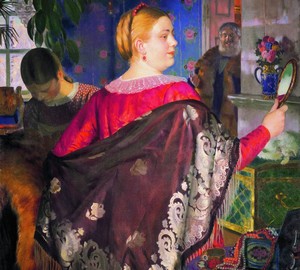 Description of the picture:
Tradeswoman with a mirror – Boris Mikhailovich Kustodiev. 1920. Oil on canvas. 141×108
Youth always attracts with its brightness, beauty, freshness. The artist presents us with an ordinary scene from a merchant's life. A young girl is trying on a new silk shawl. The picture is full of details that reveal the character of the heroine. Decorations are laid out on a table, a girl from a servant is sorting out furs, a green chest by the stove is clearly hiding "wealth" heroines. A smiling merchant is standing in the doorway, in a rich fur coat. He admires his daughter, passionate about the new wardrobe.
The color riot, so characteristic of the author, is embodied in a harmonious union of a variety of colors: raspberry, green, white and blue."