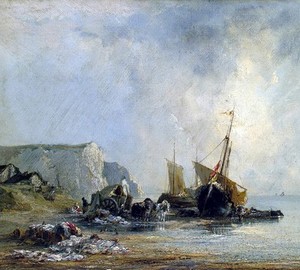 Description of the picture:
Boats off Normandy – Richard Parks Bonington. Around 1823-1824. Canvas, oil. 34×46
Richard Bonington (1802-1828) – English landscape painter, belonging to the circle of romantics. He studied in France and was friends with Delacroix. Bonington's career and life was very short, he died of tuberculosis at 25. The main works of the first half of the XIX century were devoted to the foggy shores of England and Normandy, the coastal landscapes of Italy. "Boats off the coast"- one of the best realistic works of the painter, not without a certain romantic mood. A small picture shows the ebb at the foot of the chalk cliffs. The sea receded, exposing the bottom of a small harbor. The barges are in an unstable position, and the horse-drawn heavy wagon, around which people scurry around, almost drove into the sea. In contrast, light vessels glide freely along the horizon. The sky in the work is special – translucent through the haze of fog. The bright sun illuminated the cliffs breaking into the sea. Unlike many artists who liked to portray storms and storms, Bonington liked to write the usual, calm state of the water element and nature."