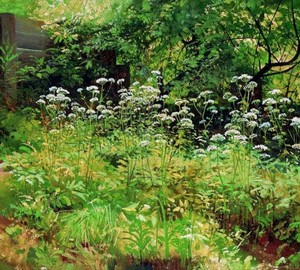 Description of the picture:
Dream of grass. Pargolovo – Ivan Ivanovich Shishkin. 1885. Oil on canvas on cardboard. 35×58.5
Etude "Dream of grass. Pargolovo" one of the many "exercise" great master of the landscape. Before us is a neglected corner of a country garden, overgrown with dream-grass. Name itself "dream grass" can tell a lot. After all, the word "dream" nothing but a modified Russian word "eat" (food, food). This plant indeed in ancient times served as food for our ancestors …
Sunlight, picturesque thickets of grass, country fence – that's all the simple content of the picture. Why is it hard to take your eyes off this work of Shishkin? The answer is simple: left by human attention, this small corner is beautiful with its simplicity and naturalness. There, behind the fence, a different world changed by man to suit his needs, and here nature is accidentally granted the right to be itself … This is the magic of work, its ingenious simplicity."