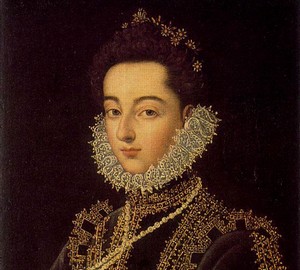 Description of the picture:
Portrait of the Infanta Catalina Michaela of Austria – Alonso Sanchez Coelho. Between 1582-1585. Canvas, oil. 70×50
The court painter Alonso Sanchez Coelho (circa 1531-1588) is the founder of the Spanish parade portrait. The characters of his paintings are static, they are restrained and slightly arrogant according to tradition.
Catalina Michaela was the youngest daughter of King Philip II of Spain. The presented portrait shows a very young girl, about sixteen years old, against a strict dark background. She is cold and calm, as it should be according to the rules of court etiquette. A starched lace collar, a heavy robe embroidered with gold and silver hold back the movements, but carefully written out details of the costume are combined with the whole characteristic of the model. Behind external isolation, the artist could discern grace and charming feminine grace.
Having married Carl Emanuel I of Savoy, the infante left her homeland forever. Having given birth to a husband of ten children, Catalina Michaela died, barely reaching thirty years of age."