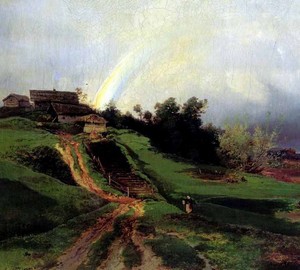 Description of the picture:
Rainbow – Alexey Kondratievich Savrasov. 1875. Oil on canvas. 45×56.5
The work of Alexei Kondratievich Savrasov (1830-1897) is a transitional stage in the landscape painting of the 19th century. Having freed her from the canons and ideals of Western art, the artist turned to national motives, searching in the simplest corners of Russia for a nagging charm and causing sublime awe before nature.
Painting "Rainbow" devoid of the effect of panorama and sentimentalism. The realistic manner of performing the landscape, the choice of a simple compositional perspective with a dirt road and a hill rising from a hill create the impression of a snatched "piece" of living, natural nature, dressed in a frame. Complex tonal transitions, soft colors and super sensitivity of the artist in transmitting the emotional state of nature turn the canvas into an expressive "story" about the harmony of souls of the Russian land and a selflessly loving person."