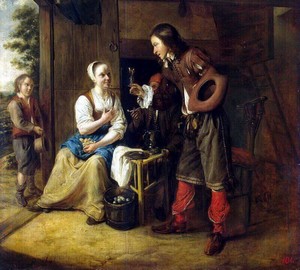 Description of the picture:
The maid and soldier is Peter de Hoch. Wood, oil. Seventy one x fifty nine cm
Living in Delft, the artist sometimes returns to the plots of his early works, depicting scenes of soldier's life and rest. However, the influence of the Delft school of painting is already clearly visible in this painting.
The plot of the picture is very simple. In a wooden stable near the doorstep sits a young maid, busy peeling potatoes. Near the small table are resting soldiers. The young man gallantly got up from his chair and, with a slight bow, offers the girl a glass of wine. Clutching her хэнд to her chest, she looks into his eyes with a bewildered smile. Her whole appearance gives out incredulity and indecision.
The second person in the picture is almost invisible. He silently smokes a pipe, leaning back in his chair.
On the canvas there is another character that attracts attention in the last turn. This is a beggar boy leaning against the door. He came for alms, but froze, watching what was happening.
Daylight well illuminates the figure of the girl, emphasizing the bright white color of the shirt, the warm golden yellow color of the skirt, the bright blue shades of the apron. Matte skin, dimples on the cheeks, dark expressive eyes create a bright and delicate image.
The soldier calmly and confidently awaits an answer. As a young man, an expensive tan leather camisole with slits through which a white shirt peeps. Nifty wide olive-gray trousers, the bottom of which is decorated with a bow and golden lace., Gently shimmer in the sun. Metal buttons gleam along the side seam. Red leggings create a bright accent.
The figure of a tired boy is painted with muted, dull colors, he almost merges with the background of the canvas. Faded, inexpressive colors of a jacket, crumpled pants, trampled shoes. The kid is holding an old hat.
This is one of the first paintings where the artist complicates the space. An open wooden door opens a view of the summer valley, trees, blue sky. This technique allows the master to combine the premises and nature into a single whole.
And, of course, one cannot but note the masterfully written details. Looking at the image you feel the fragility of a glass goblet, the cold metallic luster of the door ring, the severity of a wooden bucket of water.
The picture is very bright, lyrical, and rightfully occupies a worthy place in the collection of "small Dutch" in the Hermitage."