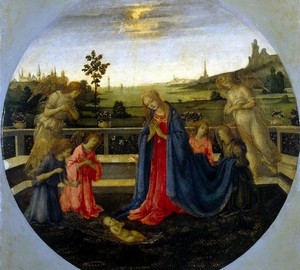 Description of the picture:
Adoration of the Infant Christ – Filippino Lippi. Mid 1480s Copper, tempera. Diameter 53
Filippino Lippi (1460-1505), the son of the artist Fippo Lippi – probably the most famous of the students of Sandro Botticelli, who adopted the features of the refined, poetic style of the master.
Starting from the second half of the 14th century, Italian artists began to interpret the Nativity of Christ scene as the scene of Adoration. Lippi continues this tradition, introducing the newborn and Madonna in a beautiful garden of paradise, where winged angels with golden hair protect their peace. The backdrop is a fabulous landscape with mountains and castles in a light haze. Everything here is permeated with a sense of an accomplished mystery."
agence d'escorting