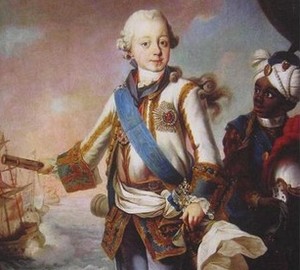 Description of the picture:
Portrait of Grand Duke Pavel Petrovich – Stefano Torelli. 1765. Oil on canvas. 176×107
The representative of Rossika, the Italian painter Stefano Torelli (1712-1784), worked and worked successfully in Russia in the second half of the 18th century. Torelli is a master of light and elegant courtly Rococo style, often using various allegories in his works.
Portrait of Pavel Petrovich refers to representative ceremonial portraits. The young Grand Duke is placed in a kind of conditional theatrical environment, where he is the protagonist. By an imperious gesture, he points to a stormy sea in which ships fight the winds – glorification of future naval victories. An elegant little servant girl, bowing respectfully, presents him with a helmet with a feather as a military leader. The white military suit, embroidered with gold, twists, billowing in a gusty wind, but nothing darkens the calm, concentrated face of the grand duke."