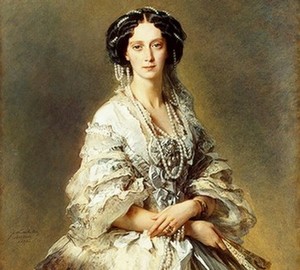 Description of the picture:
Portrait of Empress Maria Alexandrovna – Franz Xavier Winterhalter. 1857. Oil on canvas. 120×95
Franz Winterhalter, a German by birth, settled in Paris in one thousand eight hundred thirty four and soon became a brilliant salon master. The court portraitist of King Louis Philippe, and then Emperor Napoleon III, he executed numerous orders of the Russian emperor and the Petersburg nobility.
Winterhalter stands out among the Hermitage "Portrait of Empress Maria Alexandrovna", wife of Alexander II. She is in a white airy dress with ribbons depicted on a gray-brown background. The artist was attentive to the transfer of the matter of the dress and thoroughly wrote out all the accessories and jewelry, so the thread of heavy pearls, which interweaves dark hair, and a pearl brooch on the chest seem to be tangible. The pale, painful features of a thin face and the deep, sad gaze of unusually expressive blue eyes hint at the empress's incurable disease. In 1880, Maria Alexandrovna died of tuberculosis.
The portrait was a great success, and subsequently many painters мейд copies of it."