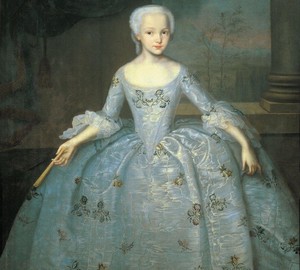 Description of the picture:
Portrait of S. E. Fermor – Ivan Yakovlevich Vishnyakov. Around 1850. Oil on canvas. 138×109
Ivan Yakovlevich Vishnyakov (1699-1761) – one of the first Russian portrait painters. After training with the French painter Louis Caravac, Vishnyakov became the main artist at the imperial court and was engaged not only in easel painting, but also participated in painting and decorating a number of palaces in St. Petersburg and its suburbs.
"Portrait of Sarah-Eleanor Fermor" is an example of a ceremonial portrait. The model, full of solemnity, is depicted by the artist in full growth. The young countess is captured by Vishnyakov against the backdrop of a landscape in which dawn is barely outlined. Thus, the artist hints at the "dawn", the beginning of the life of his heroine. The palpable ease of pose and the graceful play of the future beauty with a fan are dictated by the frivolity and frivolity of the era of Elizabeth Petrovna, reflected in the art of the Rococo style."